Economic and Social Sustainability
One of the most dynamic approaches today and seeks to remain successful is the execution with social responsibility. Originally based on a philanthropic approach, Corporate Social Responsibility (CSR) has evolved into a win-win model much more strategic. CSR is the commitment of a company to operate economically and environmentally sustainable while recognizing the interests of customers, partners, employees, local communities, the environment and society in general. Seeks sustainable development, not a palliative contribution, seeking the added value of knowledge, not only financial contributions, seeks human involvement and a culture of social projection: not only give cold checks with no feelings.
That is why Our House Restoration has developed a Community Give Back Program which has the goal to donate a portion of your project to a non-profit organization of your choice. If you are interested in finding out more about this program and how we can help, contact our corporate office.
We are proud to collaborate with Active Heroes.
Donate Here: Active Heroes
Environmental and Product Sustainability
Shingle Recycling
Each year in the United States, approximately 10 million tons** of recyclable shingles are removed from the roofs of homes and buildings. Did you know you can pave a road with your used shingles? Right now, 74,682 tons of shingles* in the Louisville area could be recycled. When you choose a roofing contractor who is able to recycle torn-off shingles, you are helping the environment in two ways: Your old shingles don't end up in a landfill, and they get repurposed as pavement.
We love to share our commitment and keep your old roof out of your landfill. We took the pledge, and you?!
Together we can help improve our neighborhoods and the planet!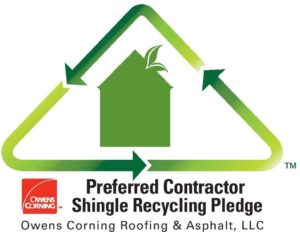 *Tonnage Recycled Annually by 
8/22/2018

.
**NERC-Northeast Recycling Council, March 2012.