GUTTERS
Gutters play an important role on your roofing system. When choosing the proper roof drainage system, you can guarantee that you don't have to climb ladders periodically to clean tons of leaves, pine needles or twigs.
Gutters comes in several sizes, colors and shapes called profiles. They are made of either aluminum, steel, zinc or vinyl. Common shapes are:
K-style gutters: they have flat bottoms and backs, and the front side of the gutter usually has a decorative shape, such as a curve or ogee, that mimics crown molding.

Half-round gutters: they are exactly what the name suggests: half-round tubes. Half-round gutters often are found on older, historic homes.
Let's face it, you would rather spend time with your family than cleaning downspouts or your gutters. For that reason, you can add some features that will make your cleaning job a lot easier: Gutter Guards! They provide assurance that gutters won't get clogged with leaves or large debris. They also allow you to maintain your gutter system more easily. Gutter guards can also stop gutters from prematurely rusting due to wet debris residing in gutters.
If you make the right decision your house will avoid problems that will cost you more than the initial investment. Some examples are:
Basement water damage
Mold growth
Water spots on side of house
Icy, unsafe walkways in winter
Accelerates rotting and/or weakening of wood
Lower the value of your house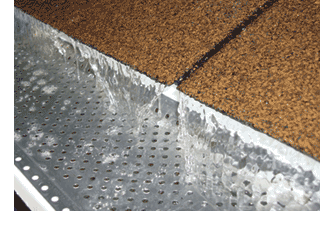 Systems that we sell and install:
Shur Flo Gutter Protection System.
Leafproof Gutter Protection System.
Our House Restoration will be on your side during the process. Just call us and we'll take care of your needs.