ROOFING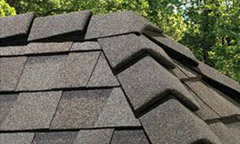 Roofing your house is a serious matter, not only because is a long-term investment but it can be the costliest single improvement to your home. You will either pay for quality to get it done right the first time or possible pay for years on a contract job just to save a few bucks upfront.
Reliable workmanship is something everybody looks for when they are intending to replace or install a roof. Shortcuts that "save money" might seem attractive at quote stage, but can become a real problem over the years or even just months after your install. Our approach is to advocate for you at all stages of the process; quality vs. prices is our specialty.
Our roofing technicians will assess your roof and determine if you need a roof repair or a full roof replacement. If your roof is covered by insurance, we can work directly with your insurance company on your behalf to make sure you are setting everything your policy allows for to fuller restore your home whether it's a repair or a full replacement.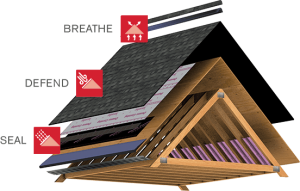 Roofing is a system as you can see from the Owens Corning illustration
Type of damage: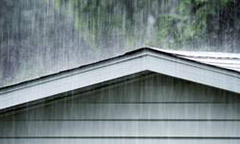 If you notice a leak or suspect hail damage, don't wait! Water intrusion and delayed corrections can be very expensive! Our specialist can repair hail damage, fire or water loss, as well as wind and rain damage.
Improper repairs, blistering or lack of maintenance are also common problems. Specific levels of maintenance are required to prevent voiding your roof warranty. Addressing minor problems before they escalate maximizes roof life as well as minimizes headaches and additional expenses.
Type of materials:
There are several types of roofing materials such as Metal, Clay tile, Slate tile, Concrete tile, Wood shingles & shakes, Spanish tile and Asphalt shingles, this last one is the most common used among homeowners.
Decisions about type of materials lean on your budget, preferences, needs and future plans. Don't rush, remember, is a long term investment.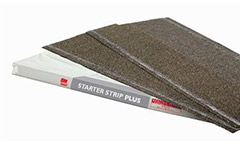 If you choose shingles as your material roof, please keep in mind the market has different options: architectural and traditional 3-tab shingles:
Architectural shingles (also referred to as laminated or dimensional shingles) are the latest addition to the shingle line up. Most homeowners who are looking for an upgrade in style and function chose architectural shingles. They cost about 20% more than the traditional three-tab shingles. The steeper cost isn't just paying for good looks. The architectural shingles are thicker because they are made up of several layers of laminated shingles. Therefore, they are heavier and much more resistant to wind and storm damage. They are less likely to warp and wear like a three-tab shingle. Architectural shingles also typically have a longer warranty. Some architectural shingles come with a 40-50-year warranty (termed lifetime) compared to a 20-30-year warranty for three-tab shingles. Plus, architectural shingles are rated up to 110 miles per hour winds compared to 70 miles an hour for three-tab shingles.
Colors:
This step is as delicate as to choose the type of roof you want. After a quick review of your needs and desires about how do you want your roof looks like, you can check out different color options and narrow it down to 3 colors. Gain some design inspiration with our section –Get Inspired-.
More information:

 Roofing Basics

 Total Protection Roofing System