TOTAL PROTECTION ROOFING SYSTEM
®
Total Protection is more than shingle deep
It takes more than shingles to protect your home. It takes an integrated system of components and layers designed to help perform in three critical areas.
Seal Helps create a water-proof barrier
Defend Helps protect against nature's elements
Breathe For balanced attic ventilation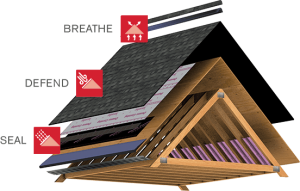 Seal
Helps Create a Water-Proof Barrier
Block water resulting from ice damming, wind-driven rains and normal water flow. A properly sealed roof helps prevent rot and mold.
Ice and Water Barriers
Designed to protect the roof where water tends to collect, including valleys, vents, chimneys and skylights.
Underlayment
Underlayment products are the final line of defense between the home and the elements. Underlayment products help block water from the roof deck and out of the home to help prevent rot, mold, and water damage. Your roof is a big investment. Help protect it right from the start against water damage in the attic, which can cause mold growth and rotting deck boards.
Defend
Helps Protect Against Nature's Elements
Add a tough, yet beautiful layer of defense with strong adhesion that resists blow offs and helps shed water away from the roof deck. Helps protect the most vulnerable areas such as eaves and peaks.
Starter Shingles
Designed to protect the roof where water tends to collect, including valleys, vents, chimneys and skylights.
Shingles
Owens Corning® roofing shingles do more than just protect your home from the elements. They boast a wide selection of color blends and styles that help bring out the true beauty in your home.
Hip and Ridge Shingles
Hip and Ridge shingles add an attractive, finished look to your roof's ridgeline while protecting against the weather.
Breathe
Optimize Airflow in your Attic
Reduce heat and moisture buildup that can lead to ice damming, roof deterioration and mold infestation. Helps air flow through the attic to manage temperature and moisture.
Intake Ventilation
When used with the proper exhaust ventilation, intake ventilation products help replace the warm, humid air in your attic with cool, dry air to help protect the interior components of your roof system from heat and moisture damage. They also help keep the attic temperature closer to the outside temperature to help eliminate problems such as ice damming, which can cause premature shingle deterioration.
Exhaust Ventilation
Exhaust ventilation helps draw air out of the attic, protecting the roofing system from heat and moisture damage. Designed to work together with our VentSure® intake ventilation products, they help create a balanced flow where warm, humid air is continuously replaced by cool, dry air.