SIDING
The right siding can dramatically boost your home. Are you thinking to upgrade your house? This could be a good option to start with. There are many types of siding on the market, such as vinyl, wood, fiber cement, stucco, engineered wood siding, synthetic stone.
Siding is the first line of defense from weather elements, and this will play a big role in how the siding looks in the decades to come. Expertise on installing a good siding system will save you money and time; choosing the right person to do so, is a "must have" to maximize your budget. Our House Restoration brings to the table experience and product knowledge so you can feel safe on who is doing the job.
When selecting siding, there are six basic points to consider:
1. Water Resistance. Water-resistant types of siding will have longer life spans.
2. Ease of Installation. If you're installing the siding on your own, make sure it is within your skill set, requires no special tools, and creates no harmful dust when cut.
3. Energy Efficiency. Check the R-value rating for energy savings and understand what will be needed as far as insulation beneath the cladding.
4. Aesthetics. Your siding will be in full view as you come and go, so make sure it is beautiful to you.
5. Versatility. Make sure the siding has the versatility to meet the varied needs of your specific project. If there are aspects of your home's exterior that will make using a particular type of siding more challenging than others, make sure you understand what the added costs or necessary adjustments will be.
6. Durability. Does it have the strength to resist temperature shifts present in your climate? How does it stand up to everyday wear and tear?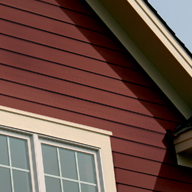 As any other material, a system siding can suffer some peels, blisters, pits or flakes. Fortunately, manufactures offer warranties on their products. Maintenance is a key factor to a long-lasting siding system; you should power wash or pressure wash at any time of the year.
Call us to explore your options, we will drive you to the pros and cons and together take the best decision that fit your needs.